MA Attorney General OK's gay marriage ballot initiative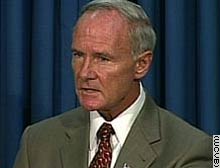 Reilly says it wasn't a political decision. WTFE.
The fate of same-sex marriage in Massachusetts can be determined by a ballot initiative leading to a vote on a state amendment banning gay marriage, according to goon Attorney General Tom Reilly. Do you think his run for governor is playing any role? Hmmm? All this looks like it's going to do is create a big mess.
-A proposed citizen initiative that would ban gay marriage passed a key hurdle Wednesday when Attorney General Tom Reilly ruled the ballot question is permitted under the state constitution.

The action by Reilly, a Democrat who is running for governor in 2006, clears the way for the Massachusetts Family Institute to go out and begin gathering the signatures of at least 65,825 Massachusetts voters.

If that effort is successful, the question then must by approved by two successive sittings of the 200-member state Legislature. The question would then be placed before voters as a constitutional amendment in November 2008.

Opponents of gay marriage, including Republican Gov. Mitt Romney, have said they prefer the ballot initiative route to a separate proposed constitutional amendment making its way through the Legislature. That measure would ban same-sex marriage while simultaneously legalizing Vermont-style civil unions.

The citizen initiative also only needs to be twice approved by 25 percent of lawmakers, while the Legislature's proposed amendment needs two successive majority votes.

Lawmakers are scheduled to take the second vote next Wednesday on their proposal to amend the constitution. It received initial approval from the Legislature last year.

The soonest that proposed amendment can go to a statewide ballot is November 2006, but it's unclear whether the measure will have enough votes to pass again next week. Some who initially voted for the amendment now say they have dropped their support, in part because of the possibility of voters weighing in on the Family Institute petition.

…Backers of the initiative say that makes it clear voters have the authority to overrule a court decision, while gay marriage advocates point out that the court case that led to gay marriage rights did not overturn an existing law.

In a letter to gay marriage advocates, Peter Sacks, Reilly's deputy chief, explained that the petition was allowed to proceed because the writers of the section of the constitution governing ballot initiatives "clearly meant to allow initiative petitions to amend the words of the constitution in response to a court decision finding a law unconstitutional."