From the Blend mailbag…
A few items that came to me from House Blenders…

Babies Caught Up in 'No-Fly' Confusion. Nice that Homeland Security is sweeping up the diaper set because they have the same name as someone on the no-fly list. Our tax dollars at work (hear the flushing sound?). Above: Ingrid Sanden sits with her daughter on the shoreline overlooking Gull Lake. Sanden's one-year-old daughter is one of 14 infants whose name appears on the government's 'no-fly list.' (AP Photo/Steve Kohls). Holly points to The Moderate Voice's take on this.

NC's Version of Paul Hackett. RealValues alerts us to another Iraq vet that will attempt to unseat one of our wingnuts here.
Former NFL QB and University of Tennessee Star Heath Shuler announced he would challenge Charles Taylor in NC's 11th District, and now word that Marine Corps Lt. Colonel Tim Dunn will run for the Democratic nomination to face Republican Robin Hayes in NC's 8th.

According to the Charlotte Observer, Dunn, who is "a lieutenant colonel in the Marine Corps Reserves, got back from Iraq late last year. A trial lawyer by profession, Dunn spent six months in Baghdad helping the Iraqi Special Tribunal investigate and begin prosecuting Saddam Hussein and other former Iraqi leaders on charges of genocide, war crimes and crimes against humanity."

Robin Hayes is a perennially endangered Republican who may have finally sealed his fate this term by flip-flopping on CAFTA. Hayes' district has been hard hit by the loss of manufacturing jobs, particularly in the textile industry. Indeed, Dunn specifically mentioned Hayes CAFTA betrayal as the reason he will likely challenge Hayes.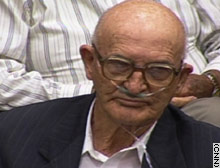 From Paul: "And meanwhile this murdering, convicted Klansman is home drinking beer." Yep. The redneck bastard Edgar Ray "KKK" Killen is out on bond, still unrepentant after his manslaughter convictions and 60-year sentence in the 1964 killings of three civil rights workers.
During Friday's hearing, a black jailer testified that he had felt threatened by Killen when booking him into jail after his conviction. Kenny Spencer said that when Killen was asked a standard question for new inmates _ whether he was suicidal _ Killen told him, "I would kill you before I killed myself."
Executed Woman to Get Pardon in Georgia. Paul pointed to this one as well. It makes you wonder how many others there were like this. Even today, what's the likelihood that some of the 100+ people Chimpy put to death in Texas were innocent. (Photo: Roosevelt Curry kneels beside the grave of his aunt Lena Baker while others look on earlier this month in Cuthbert, Georgia.)
The only woman ever executed in Georgia's electric chair, Lena Baker, is being granted a posthumous pardon, 60 years after she was put to death for killing a man she said had held her in slavery and threatened her life.

The Georgia Board of Pardons and Paroles plans to make the pardon official by presenting a proclamation to Ms. Baker's descendants at a meeting on Aug. 30 in Atlanta, a board spokeswoman, Scheree Lipscomb, said Monday. The board did not find that Ms. Baker was not guilty of the crime, but it did find that the decision to deny her clemency in 1945 "was a grievous error, as this case called out for mercy," Ms. Lipscomb said.

In her one-day trial, Ms. Baker, who was black, testified that E. B. Knight, a white man she had been hired to care for, had held her against her will and threatened to shoot her. She said she grabbed a gun and shot him when he raised a metal bar to strike her. She was convicted by an all-white, all-male jury.
To end on a happier note…a big happy one year birthday to Mike Tidmus's blog! He has a celebratory graphic to share with some folks you may know (click to enlarge)…

Here's a tease of the description. Head over to Mike's for the rest.
Hot on the heels of their blockbuster screen hits, Baghdad Beach Party, Muscle-In Beach Party and How to Stuff a Wild Burka, Here We Go Again Productions is slated to release, Beach Blanket Oblivion — the latest in their wildly popular Condi and Georgie series of teen films that are delighting young Republican audiences across the country.