Did I forget to mention, to mention Memphis
Home of Elvis and the ancient greeks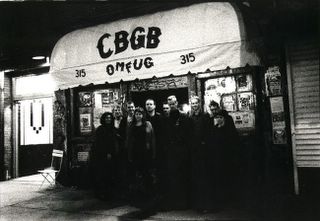 It's the end, the end of the century

I've never been to CBGB's. To me it's one of those mythical places like the Liberty Lunch or the Apollo Theater; a place where something happens. So I was sad to see that CBGB's is threatened with closing:
Supporters of the famed rock club CBGB's are planning a last-ditch series of events to save the birthplace of punk.
There will be a show almost every night at the space during August, the last month of CBGB's lease, and a big event on the 31st at Washington Square Park, said singer/songwriter/"The Sopranos" star Little Steven Van Zandt, who has been involved in the preservation efforts for the last several weeks.
The club is in conflict with its landlord, the Bowery Residents Committee, over back rent and an increase to the monthly rental cost, which is about $19,000. The committee provides shelter for homeless people in the building that houses the club.
I'm sure other bloggers will have some great posts up about shows that they saw, or think that they saw at CBGB's, and I look forward to reading them. I don't have one of those stories, but here is what I do have…
On the lasy day of school this year, Casey and I drove down to Ocean Beach to Hodads, which is to burgers by the beach (two words: bacon cheeseburger) what CBGB's is and was to punk. Anyway, it was kind of drizzly that day and there weren't a lot of people out so we were able to grab two of the covetted stools along the front counter that opens onto the street where we could watch life's rich pageant of freaks pass by. We weren't disappointed.
Midway through our lunch a minivan (or "goobermobile" in localese) with out-of-state plates pulled up right in front of us and discharged it's contents of pasty-white children, fanny-packed mom, and then came the dad. I'm guessing he was probably mid-thirties, paunchy, balding and, from bottom to top, sporting brand new white cross-trainers, black socks, knee-high denim shorts that were pulled up about six inches too high, and…a black, too-small, but obviously brand new CBGB t-shirt.
Before I even had a chance to say anything, Casey beat me to the punch with, "Omigawd. That is just so wrong."
…and that is my CBGB story.
(Click on the time stamp for some good comments)