Guilty — and "peaceful" to the end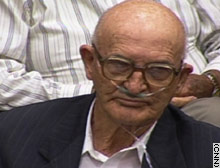 Looks like Edgar Ray Killen, "a man of character" and member of that "peaceful organization," the KKK, is going to the clink. If this bastard ends up in gen pop, he's going to be someone's wrinkled b*tch in short order…if he lives that long.
Forty-one years to the day three civil rights workers were ambushed and killed by a Ku Klux Klan mob, a jury found former Klansman Edgar Ray Killen guilty of all three counts of manslaughter Tuesday.

The "Freedom Summer" killings of James Chaney, 21, Andrew Goodman, 20, and Michael Schwerner, 24, galvanized the civil rights movement. The jury of nine whites and three blacks reached the decision after several hours of deliberations.

Killen showed no emotion as the verdicts were read.

But as he was being escorted from the courthouse under heavy guard, the wheelchair-bound man took swipes at reporters' microphones and cameras. One of the reporters was black, as was a cameraman.
Thanks to House Blender Holly for the pointer.