AIDS and suffering trumps accepting 'queer'-tainted money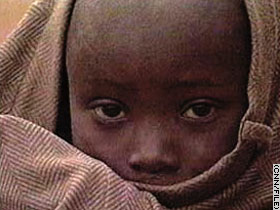 Caring for the poor and suffering in many African countries should be the first order of business for the Anglican church, but no — instead they are politicking by refusing to take donations from the U.S. Episcopal church, according to wingnut site AgapePress. Again, they show that the pious are the immoral.
Anglican bishops in Africa are refusing millions of dollars in donations from Episcopal Church USA (ECUSA) members who have endorsed actively homosexual clergy. The African church leaders took this position following the 2003 election of Vicki Gene Robinson, a priest who left his wife and now lives with his male partner, as Bishop of New Hampshire…After Robinson's ordination the archbishops of many African countries, representing nearly half of the world's Anglican community, declared they would not accept grants from ECUSA churches that endorsed him. Refusing funding from pro-homosexual U.S. sources has put an especially heavy burden on dioceses in Rwanda, a nation still recuperating after the 1994 genocide in that country. However, as Bishop John Rucyahana of the Rwandan Diocese of Shyira notes, "if money is being used to disgrace the Gospel, then we don't need it."

Tony [KKK] Perkins of the Washington, DC-based Family Research Council says he applauds the actions of the African Anglican churches for recognizing that "no amount of silver is worth sacrificing your duty to your congregation and to God." Perkins encourages other believers to help Bishop Rucyahana and the orphans of his diocese.