Catch this great Raw Story interview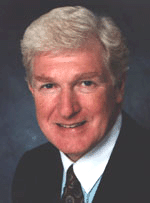 Rep. Jim Moran knows fawning when he sees it.
You have to read this piece by John Byrne at Raw Story, "Democrat says Bush Social Security plan won't help; Dubs Cheney 'ass kisser'". The title says it all. He interviews Rep. Jim Moran (D-VA), and Moran doesn't mince words about what goes on in the White House:
Raw Story: Do you really think the president is sheltered from those he's pitching his plan to?

Moran: The only actual news that he reads is the sports section. All the national news, all the opinions that he gets have been filtered, and it goes to his daily briefing that has already been pre-screened to give him what he wants to read. He doesn't read any books, and he doesn't talk with people that don't already agree with him. He's surrounded himself with ideological sycophants. And the biggest ass-kisser of all is Dick Cheney.