Hyde the salami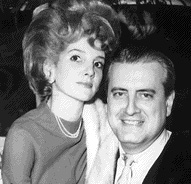 More time for married nookie….

Henry Hyde hangs it up:
U.S. Rep. Henry Hyde, the Illinois Republican who steered the impeachment proceedings against President Clinton and championed government restrictions on abortion funding, announced Monday that he will retire when his term ends in 2006.
You remember the impeachment hearings? Adultery. Blow jobs. That stuff.
Henry had a secret:
Fred Snodgrass, a 76-year-old Florida retiree, says he gets so upset when he watches Rep. Henry Hyde on TV that "I nearly jump out of my chair." Hyde, the Illinois Republican who heads the House Judiciary Committee, is on television often these days. Hyde's committee will decide whether the adulterous affair President Clinton carried on with a White House intern, and his efforts to keep it hidden, should be referred to the House of Representatives for impeachment proceedings. "I watched [Hyde] on TV the other night," said Snodgrass. "These politicians were going on about how he should have been on the Supreme Court, what a great man he is, how we're lucky to have him in Congress in charge of the impeachment case. And all I can think of is here is this man, this hypocrite who broke up my family."
Snodgrass says Hyde carried on a five-year sexual relationship with his then-wife, Cherie, that shattered his family. Hyde admitted to Salon Wednesday that he had been involved with Cherie Snodgrass, and that the relationship ended after Hyde's wife found out about it. At the time of the affair, which lasted from 1965 to 1969, Fred Snodgrass was a furniture salesman in Chicago, and his wife was a beauty stylist. They had three small children, two girls and a boy. Hyde, then 41 years old, was a lawyer and rising star in Republican state politics. In 1966, he was elected for the first time to the Illinois House. Hyde was married and the father of four sons. (His wife, Jeanne Hyde, died of breast cancer in 1992, after a 45-year marriage.)
"Cherie was young and naive at the time," said a Snodgrass family intimate. "She was a glamour queen with three young kids, stuck at home. Then this Prince Charming guy, Hyde, comes along. She was very impressed with him. He was 12 years older, he was a hotshot, he knew everyone downtown. She had nothing, and he comes along, shows her off, she was young and beautiful."
I only mention this because, you know, MSNBC seems to have missed it what with Hyde being this really moral guy and all…