Who's got Big Brass…Blog?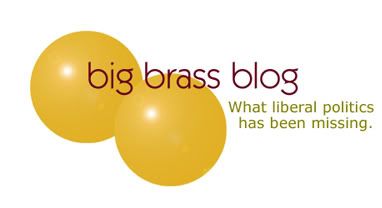 [UPDATE (Sunday, 3/20): Still leaving our B3 promotion up here, please scroll down for new Blend material.]
Big Brass Blog is rolling out; it's a joint effort started by fellow bloggrrl (and rabble-rouser) Shakespeare's Sister and myself. We figured it's time for a group blog that pulls together some of the best of the "unknown" bloggers, including our no-holds-barred, brass knuckles crew of:
* The Dark Wraith
* Ms. Julien of Julien's List
* John at Blogenlust; and
* Linnet at Looking at the Stars.
We've also got a brassy back-up section of writers as well, including Mr. Shakes and Mr. Furious from Shakespeare's Sister.
Big Brass Blog is dedicated to delivering a powerful, progressive message through a variety of voices that you'll probably shout out in agreement with a lot of the time. Our mission is to ensure that the issues often identified as "secondary" issues by establishment politicos, mainstream media (and sadly, even some progressive bloggers) — gay rights, women's rights, abortion rights, etc.– are given the same attention as those about which we are all concerned, such as preventing Bush's Social Security reform.
The content will be informative, but irreverent and entertaining — there will be no sacred cows that are going to be safe from the big brass knuckles if they deserve a good whack. And most importantly, even though our focus is on new ideas and resolute progressive principles, we intend to have a lot of fun. We don't take ourselves seriously, even though our commitment to the project is as serious as Dick Cheney's latest heart attack.
We also intend to add other bloggers we love (you know who you are) and others we discover along the way, as we move forward. B3's site features include a low-traffic mailing list, a live chat room for scheduled events with the crew and other features, such as podcasting, that we will be rolling out soon.
And one more thing — the site is still dusty and under construction, but we hope you'll stop by for a while and comments are welcome!
Oh, and add us to your blogrolls… 🙂