Teresa Wright, Stage and Film Star, Dies at 86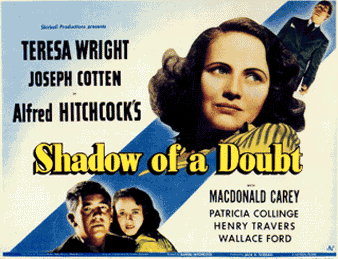 Another one of my favorite actors from the golden age of Hollywood has passed away. I loved Teresa Wright in one of Hitchcock's best, Shadow of a Doubt (with Joseph Cotten). She was also wonderful in The Best Years of Our Lives. (NYT):
Teresa Wright, the high-minded ing?Šnue who marshaled intelligence and spunk to avoid being typecast as another 1940's "sweater girl" and became the only actor to be nominated for Academy Awards for her first three films, died on Sunday at Yale-New Haven Hospital. She was 86.

…After seeing her on Broadway, Samuel Goldwyn, the legendary producer, asked her to play the role of Bette Davis's daughter in "The Little Foxes" in 1941. Her performance in the film moved its director, William Wyler, to tell The New York Times that she was the most promising young actress he had ever directed.

She proved his point by being nominated for an Academy Award for best supporting actress for the picture. The next year, she was nominated for best actress for her next role, opposite Gary Cooper as Lou Gehrig's wife in "The Pride of the Yankees," and won the Oscar for best supporting actress as the love interest of Greer Garson's war-bound son in "Mrs. Miniver."

Her work included a starring role in Wyler's "Best Years of Our Lives," winner of the best-picture Oscar in 1946; playing opposite Marlon Brando in his first movie, "The Men," in 1950; and creating the character of Charlie, the innocent but suspicious niece of a serial killer, in Alfred Hitchcock's harrowing "Shadow of a Doubt" in 1943.