"Black" wingnut at Project 21 belches up more foul hot air


The "curiously pale" David Almasi, head of Project 21
These losers are unbelievable. Project 21, an organization of "black conservatives," is blasting Howard Dean. (Agape Press):
The head of an African-American moderate and conservative group says a recent statement by Democratic National Committee Chairman Howard Dean demonstrates that political leaders on the left are taking African Americans for granted.

David Almasi is staff director of Project 21, an initiative of the National Center for Public Policy Research to promote the views of African-American moderates and conservatives whose ideas and values have not traditionally been echoed by the nation's civil rights establishment. He believes the presidential election last November showed that many blacks are disenchanted with the Democratic Party.

The black conservative leader [WHAT!?] believes that many African-American citizens are particularly displeased with the way many liberals seem to count on their votes while discounting their voice. For evidence, he points to places like Prince George's County, Maryland, a suburban county noted as one of the wealthiest African-American majority areas in the United States.

Almasi feels it is significant that the voter turnout in Prince George's County was down by 12 percent in the November 2004 presidential election. "These people didn't go out to vote for Bush," he says, "but they didn't go out to vote for Kerry either. I think it shows taking the black vote for granted is not going to work anymore. And what Howard Dean did the other day, I don't think is going to help his cause anymore."
As the article casually notes, Project 21 is not a free-standing organization; it is an "initiative" of the conservative think tank, The National Center for Public Policy Research (BTW, I had to trek over to NCPPR to get that Almasi photo, since there's not one to find at P21). The sole purpose of Project 21 is to provide token talking head media whores to represent the right wing when they need a splash of color. They will always be able find someone to Tom for the Right.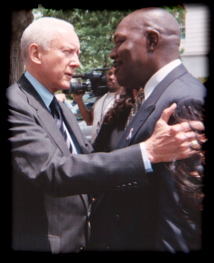 …Orrin Hatch in a loving embrace with P21 member Mychal Massie.
As I've said before — can these GOP-sellout blacks even run their own f*ckwad organization? Do they enjoy being a tool of the Right?