Black wingnuts at Project 21: pimping for The Man
[Welcome Buzzflash readers…comments are welcome!]
What the hell is this? I am sitting here reading yet another hysterical article from the wacky right-wing AgapePress about black conservatives pushing for Thomas as Chief Justice of SCOTUS. Where do they find these people?
David Almasi is director of Project 21, the National Leadership Network of Black Conservatives. Project 21 is calling for Senate Minority Leader Harry Reid to apologize for telling NBC's Meet the Press that Thomas is "an embarrassment to the Supreme Court." Almasi takes issue with Reid's assessment of Thomas's credentials.

"Scholars of all stripes have come out saying that he has done some good things on the court, so I don't think that his scholarship can be questioned anymore," Almasi says. "However, Harry Reid has found reasons to do so."
OK, it's plain old wingnuttery that you expect from the Right, but what is this mysterious "Project 21," I wondered. I surfed over to the site and the first unsettling image is this: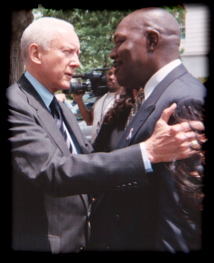 …Orrin Hatch in a loving embrace with P21 member Mychal Massie.
The "Project 21" spokesman says Thomas should be considered a top candidate to become the next chief justice of the nation's highest court. "The best person for the job should be the one who gets it," he says. "But Clarence Thomas has certainly proved himself to one of the leading justices on the court right now — and he should certainly be one of the final people looked at, if and when that situation comes about."
As you read above, this group of colored wingnuts is headed by the curiously pale David Almasi…
Can these GOP-sellout blacks even run their own f*ckwad organization? Do they enjoy being a tool of the Right? I was looking to see if our friend Armstrong Williams was counted among P21's ranks, but alas, I found nothing on him.
Project 21 is not a free-standing organization; it is a "department" of the conservative think tank, The National Center for Public Policy Research (BTW, I had to trek over to NCPPR to get that Almasi photo, since there's not one to find at P21). The sole purpose of Project 21 is to provide token talking head media whores to represent the right wing when they need a splash of color. They will always be able find someone to Tom for the Right. Here's what is on the web site:
Project 21 is an initiative of The National Center for Public Policy Research to promote the views of African-Americans whose entrepreneurial spirit, dedication to family and commitment to individual responsibility has not traditionally been echoed by the nation's civil rights establishment.

Project 21 participants have been interviewed by hundreds of media outlets, including the O'Reilly Factor, Hannity and Colmes, the CNN Morning News, Black Entertainment Television's Lead Story, America's Black Forum, the McLaughlin Group, C-SPAN's Morning Journal and the Rush Limbaugh, Michael Reagan, Sean Hannity, G. Gordon Liddy and Larry King shows, as well as in newspapers such as The New York Times, The Wall Street Journal, The Washington Post, The Washington Times and many others.

Project 21 participants live all over the U.S. and have a variety of careers. What they have in common is a desire to make America a better place for African-Americans, and all Americans, to live and work. Project 21 members do this in a variety of ways in their own communities, and, through Project 21, by writing opinion editorials for newspapers, participating in public policy discussions on radio and television, by participating in policy panels, by giving speeches before student, business and community groups, and by advising policymakers at the national, state and local levels.
These guys (women, no surprise, are a rarity in this "club") are something to behold. To convince you further of their conservative (and most-heterosexual) cred, we have Project 21 members posing with our favorite Senator, Rick "Man-on-Dog" Santorum, and protesting on behalf of conservative principles…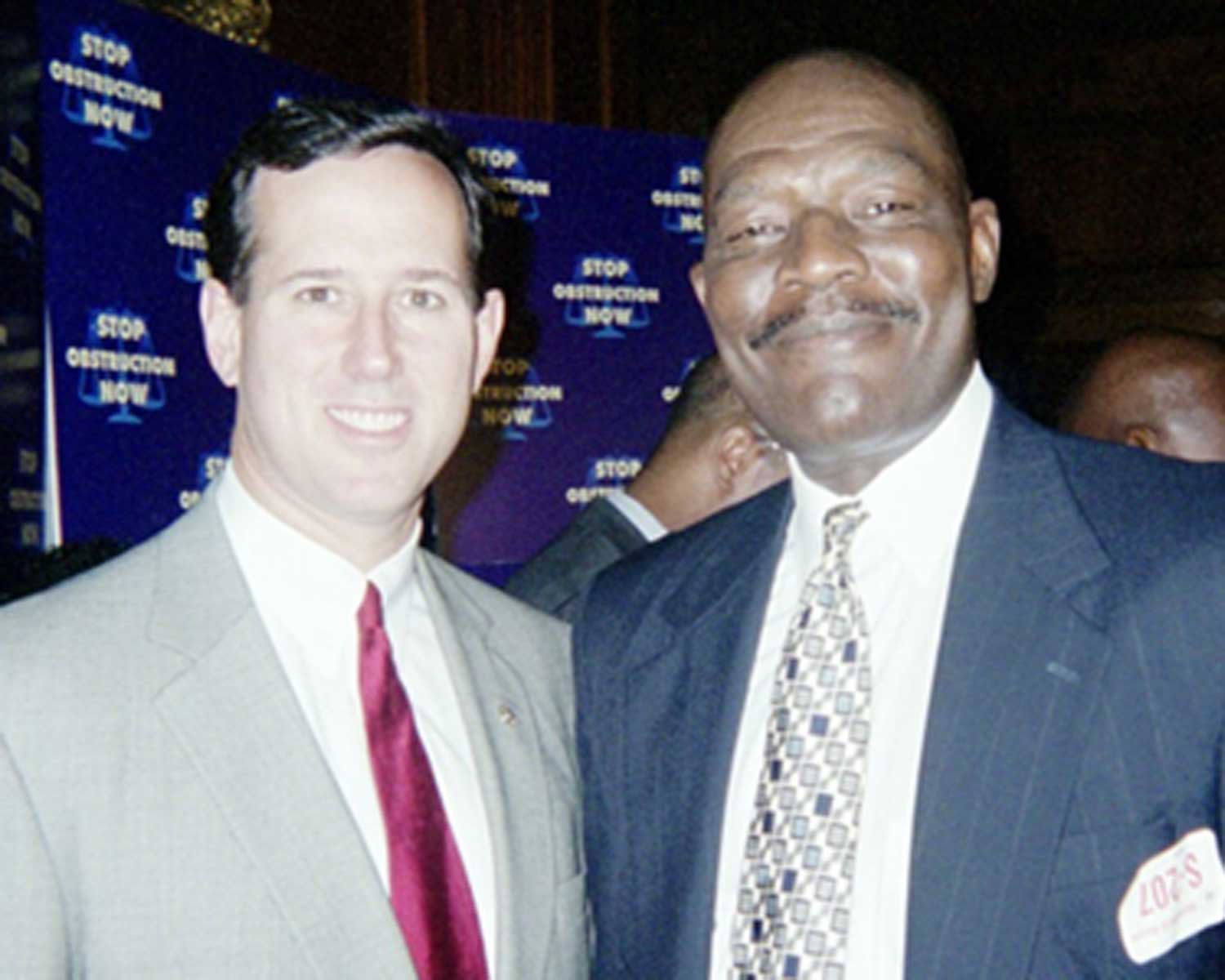 …and P21's Kevin Martin's making sure the Right point of view is shared with good colored folks watching H&C; and Hardball…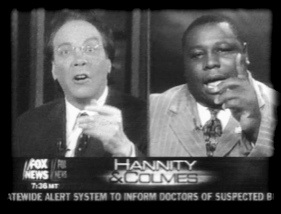 And you must check out the New Visions page of the P21 site, which contains scintillating articles such as:
"Anti-SUV Activists Versus the American Family"
"One Righteous Dis: Bush Right to Turn Down NAACP"
"Thanking Bush for His Leadership "
"Blacks Need Green to Compete with Whites in NASCAR"
Need I say more…well, yes. My father, I'm sorry to admit, is a black Repug and he'd fit in just fine with this sorry crowd – he voted for Jesse Helms back in the day, for crying out loud (don't ask me to explain that). While I have no problem with blacks taking a hard look at whether the Democrats are getting the job done, becoming a tool for the Right doesn't get you anything but grief, right Armstrong? It's embarrassing to see this feeble minstrel show.
UPDATE: I have a Daily Kos Recommended Diary up on this.