LGBT News Roundup, 1/17/2005
[NOTE: This is an early release on the House Blend of a weekly Daily Kos roundup diary that I post. It will be up today.]
Let's start off with the good news…
Gay rights bill passes Illinois House, ready for gov's signature. Gov. Rod Blagojevich vowed to sign gay rights legislation that won House approval Tuesday afternoon and would ban workplace and housing discrimination based on sexual orientation. "This truly is a landmark day in Illinois. This legislation sends a clear message that we will not allow our citizens to be discriminated against," Blagojevich said in a prepared statement. "I look forward to signing this bill." Upon signing, Illinois would become the 15th state to adopt gay rights legislation.
Dems Tell Bush To Lay Off Gays. The DNC in its Pride at the Polls newsletter to more than 100,000 party supporters calls on President Bush to abandon his call for the amendment and to tell House Majority Leader Tom Delay to " stop discriminating against Americans…In an interview on Good Morning America one week before the election, (story) Bush said that he didn't think "we should deny people rights to a civil union [or] a legal arrangement if that's what a state chooses to do." Bush then went on to call "wrong" and disagree with the portion of the Republican platform that opposed extending to gay and lesbian families "legal recognition and the accompanying benefits." It's good news, but it also pissed me off because of the many elected Dems that haven't the balls to publicly speak about gay issues, so I vented in the diary DNC petition to Bush: lay off gays.


Mel Watt (D-N.C.) with Barbara Lee (D-Calif.) and Eleanor Holmes Norton (D-D.C.) at recent funeral services for Shirley Chisholm, the first black woman elected to Congress (Photo By Jenny Warburg)
NC's Mel Watt: reframing gay rights for voters. I went and found an interview with an actual living, breathing, elected Democrat in a Red state that knows exactly how to frame this issue — on the record — Congressman Mel Watt, the head of the Congressional Black Caucus. He's a strong liberal representative from the 12th district (Charlotte) of the Tar Heel state. He talked about the challenge of the Democrats to reach and retain the religious (and non-religious) black vote in an excellent interview in the progressive Triangle-area newspaper The Independent Weekly by Barbara Solow, Reframing the issues. Watt tells Dems not to avoid talking about gay issues because of their queasiness; while he's addressing this in the context of the black vote, it applies equally to voters across the board that need to be convinced that civil liberties for gays are a good thing.
Spokane's 'creative class' plans to build a gay district. Gay activists in this staid Eastern Washington city are planning to create a neighborhood of gay-oriented homes, businesses and nightlife, which religious conservatives complain will be at odds with Spokane's family-oriented culture. A gay district would signal that Spokane is tolerant and progressive, proponents contend, the type of community that can attract the so-called "creative class" that will build the economy of tomorrow. Community Impact Spokane, a network of evangelical Christians, is appalled. "A gay Mecca is not what we'd like to see Spokane marketed as," said Penny Lancaster, director of the group. "I'd rather see us promoted as a conservative, family-oriented community without any reference to sexual orientation."


Big cheers for ally OR Governor Ted Kulongoski.
Oregon Gov. to promote gay civil rights, civil unions. In his "state-of-the-state" address to a joint session of the Legislature Monday Kulongoski said he would submit a bill this year to "defend social justice, tolerance and diversity." The speech marked the opening of the 2005 session of the Legislature. "We also face a great moral challenge: To make sure that opportunity is an open door through which every citizen can pass — not a revolving door that turns for some and doesn't budge for others," Kulongoski told lawmakers. "This is a moral challenge because if we do not defend social justice, tolerance and diversity — then the progress we make on the economic front will be bought with compromised principles and a weakened human spirit," Kulongoski said. "That is not a trade-off I can accept."
Gay Rights Groups Find Common Ground. America's often fractious LGBT civil rights groups have put aside their differences and on Wednesday announced they would work more closely to achieve major civil rights goals. In a joint statement by more than 20 national organizations the country's leading rights groups pledged to work towards a common goal. Among the groups signing the declaration were the Human Rights Campaign – the nation's largest LGBT rights organization – and the National Gay and Lesbian Task Force, its oldest. Log Cabin Republicans and Stonewall Democrats also signed on. The list includes GLAAD, the ACLU, the National Black Justice Coalition, and the Gay, Lesbian and Straight Education Network. It also includes Lambda Legal and the National Center for Lesbian Rights both of which are involved in a number of suits to win gay marriage rights.
Other signatories include the Equality Federation, Freedom to Marry, Gay & Lesbian Advocates & Defenders (which won the Massachusetts gay marriage case), Gay & Lesbian Victory Fund and Leadership Institute, the Mautner Project, National Association of LGBT Community Centers, the National Center for Transgender Equality, National Coalition of Anti-Violence Programs, National Youth Advocacy Coalition, Parents, Families and Friends of Lesbians and Gays, the Servicemembers Legal Defense Network and the National Latino/Hispanic LGBT Leadership.
Opposing Gay Marriage Bans Had Little Effect On Incumbents Study Shows. A new examination of how incumbents fared at the polls last November shows that lawmakers who opposed amendments to state constitutions banning gay marriage met with little opposition.
Move To Protect Gay Students In Texas. Three Texas Democrats have filed a bill to protect students from discrimination based on such things as race, religion, and sexual orientation.
Gay Students of Color Hold First National Conference. Called the Lesbian, Gay, Bisexual, and Transgender Students of Color National Summit, it is taking place at Ohio State University in Columbus on January 15-17. The conference was organized with the help of the United States Student Association Foundation. This is a great precedent, because the visibility of gay black Americans on MLK's birthday is so meaningful. With burgeoning homophobia in the community, especially in black churches, the ability for these students to gather and talk about the issues that affect them. Coretta Scott King is strongly in favor of gay civil rights and marriage, but her daughter Bernice is not — so even within this family dedicated to racial civil rights, it's clear that an open and honest discussion about what it is like to be both black and gay needs to occur.
Sharpton speaks out against black homophobes. African Americans were taken in by a "con" game by Republicans last November former presidential candidate Al Sharpton said. Speaking to parishioners at Atlanta's Butler Street Christian Methodist Episcopal on Sunday, Sharpton said Bush manipulated the gay marriage debate to draw attention away from the Iraq war and his domestic problems. "I think George Bush manipulated a lot of religious feelings about marriage when the president has little or nothing to do with marriage," Sharpton said. "The president cannot order what marriage is for men or women," Sharpton said.
Good for him. People like the hateful, allegedly Christian Patrick Wooden, Sr. of Raleigh's Upper Room Church of God need to hear this.
Rabid wingnut homo-bigot preachers on the loose.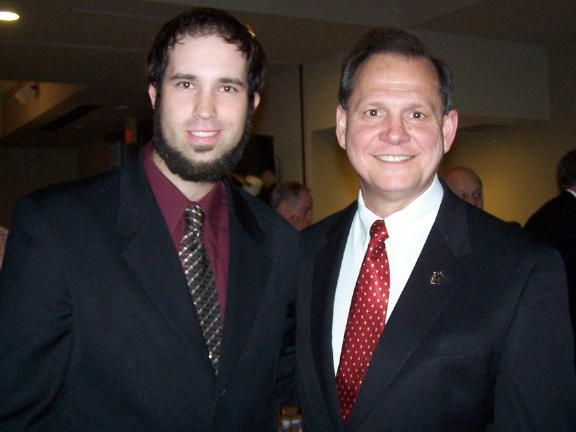 Two loons — Michael Marcavage of Repent America, and possible future governor of Alabama Roy "slab-o-ten-commandments" Moore.
Leader of "Repent America" group cites 'spiritual battle' against gays. These evangelists are facing up to 47 years in prison for protesting at a gay pride event in Philly. He's on a mission…Sane or not? You decide. Michael Marcavage is the founder and leader of a conservative Christian group called Repent America, he faces felony charges in a case that is drawing attention from like-minded organizations around the country. Marcavage is accused of disrupting a gay and lesbian celebration in October, though he says he was simply voicing his religious belief that homosexuality is a sin. He faces felony charges of riot, criminal conspiracy and ethnic intimidation – Pennsylvania's version of a hate crime – and five misdemeanor counts including disorderly conduct and reckless endangerment. His thoughts on homosexuality: "We must go out into the world and declare the word of God in front of the abortuaries and sexually perverse establishments, and at the homosexual parades and other sin celebrations and call them to repentance."
Pope focuses on anti-gay message for 2005. Pope John Paul II unequivocally condemned gay marriage and weighed in on a host of other social questions on Monday in a strongly worded message meant to define the position and agenda of the Roman Catholic Church. "Today the family is often threatened by social and cultural pressures that tend to undermine its stability; but in some countries the family is also threatened by legislation which – at times directly – challenge its natural structure, which is and must necessarily be that of a union between a man and a woman founded on marriage." Shouldn't the priority be on the church's own internal scandals that have really harmed the family — the molestation of innocent children, and the massive cover-up and settlements? I guess that would be too obvious; it's easier to gay-bash.


President of Center for Military Readiness, Elaine Donnelly says Americans "expect the Bush Administration to implement military personnel policies that reflect sound priorities, not social engineering".
Wingnut Agape Press: "Expert" Doubts Polls Showing Public Favors Homosexuals in Military. I added the quotes to "expert" in the headline, BTW, because the assessment by fundy American Family Association's "news" organ of what an expert is on this issue is questionable. Elaine Donnelly, president of the Center for Military Readiness, believes the Gallup poll results came about because too many Americans believe homosexuals are already allowed to serve in the military. "The fact that there is any support at all, or any apparent support for open homosexuality in the military, I'm sure, has a lot to do with the fact that people think that is the situation right now," she says.


Bishop Eugene Robinson of New Hampshire.
Intolerant Anglicans call for church "apology" for electing gay U.S. bishop. The leaders of the Episcopal Church, the American branch of the worldwide Anglican faith, went into closed door meetings in Salt Lake City Wednesday over demands that the Church "apologize" for the election of a gay bishop.
Lutheran decision splits on gay clergy. A Lutheran task force handed a victory to homosexual rights groups yesterday by recommending that although the Evangelical Lutheran Church in America should not change its policy against ordaining homosexual clergy, it should not censure churches that break the rule. But "those who feel conscience-bound to call people [as pastors] in committed same-sex unions should refrain from making the call a media event either as an act of defiance or with the presumption of being prophetic," the task force warned…Bishop James Mauney of ELCA's Virginia Synod said he did not see "a basis for affirming homosexual behavior within Scripture or our Lutheran confessions." He added, "Nowhere do I see in the Scriptures where Jesus condones the practice of the tax collectors or the woman caught in adultery or the life of the rich young ruler, though we are told he loves him in the Gospel of Mark."
General corporate, legislative, legal and community activism by your jolly neighborhood homophobes…
Bush won't push for gay marriage ban in Senate, then he flip-flops under fire and clarifies: White House Again Backs Amendment on Marriage. The fact of the matter is that it doesn't matter what Bush does, since the Right is perfectly positioned, with so many local legislatures under GOP wingnut control, to continue rolling out the hateful, anti-gay marriage protection amendments around the country. Many of these will pass unless there is a herculean effort, in dollars and activism/outreach, to defeat the tidal wave of religious Right efforts.
Bank of America survey asks workers about sexual orientation. How about this for workplace privacy? People can still legally be fired for being gay. So why on earth would Bank of America want to survey its staff to disclose their sexual orientation? As you will see in the SF Gate article, the online survey can be traced to individual workstations, so it's not an anonymous survey, and even worse, it is mandatory — "N/A" isn't an option. If this is the way to develop a tolerance policy, it's boneheaded.


Kansas State Senators Dennis Wilson, homo-bigot (l) and ally John Vratil.
Kansas Senate Adopts Ban on Civil Marriage, Civil Unions for Gays. Yet more bad news in the home state of Fred Phelps. A proposed amendment to ban civil marriage for gays that will also ban civil unions or any other legal recognition of same-sex relationships has passed the State Senate and is moving on to the House. This is in the mold of the current Virginia and Ohio amendments. The measure declares that only couples in a union of one man and one woman would be entitled to benefits normally associated with marriage. "Can we be sure that no activist judges or officials exist in Kansas?" said Sen. Dennis Wilson, R-Overland Park, who voted for the measure. "An amendment to our constitution is the only way to protect the sacred institution." Critics consider the proposed amendment discriminatory. "Never before in the history of our state have we added an amendment to the constitution that proactively discriminates against people," said Sen. John Vratil, R-Leawood, an opponent of the measure. "The people we're discriminating against are not a threat to my marriage or your marriage. They're not a threat to our children."
Kansas Senate Passes Gay Marriage Amendment. Senators adopted a proposed amendment to the Kansas Constitution on Thursday that bans same-sex marriage and prevents the state from allowing civil unions or granting other legal recognition to gay relationships.
Arizona Gay Marriage Foes Plan New Tactic. Arizona conservatives saying they don't trust Republicans or Democrats to push through a constitutional amendment banning gay marriage said Thursday they'll mount their own drive.
Pentagon Withheld True Number Of Fired Gay Linguists. Records obtained under a Freedom of Information Act request show that the military misled the public and discharged three times the number of gay Arabic linguists that it had said.
Louisiana Gov. Backtracks On Gay Order. In the face of opposition from GOP lawmakers Louisiana Gov. Kathleen Blanco is backtracking on what her executive order prohibiting employment discrimination against gay and lesbian state workers exactly means.
Supremes set back gay adoption. The Supreme Court rejected an appeal Monday by four men who challenged Florida's ban on adoption by gay couples, avoiding another contentious fight over gay rights. Florida is the only state with a blanket law prohibiting homosexuals from adopting children, but the high court was told that other states could now feel free to copy the ban. Opponents argued that the 1977 law, passed at the height of Anita Bryant's anti-homosexual campaign, was irrational because it excluded potential parents for thousands of abandoned children. Supporters contend the state has the power to promote traditional father-mother families. Florida allows gays to be foster parents, but not permanent parents. BONUS: if you want to see how the Freepers reacted to this, visit my blog.
up2date: Gay Bashing is official business in Alabama (diary by up2date). Marshall County Alabama is truly a scary place to be if you're of color or gay, listening to Sheriff Mac Holcomb. I'm sure he has a sheet with eyeholes cut out down at the dry cleaners…From the Marshall County Web site: "I am proud to be an American and that I was fortunate enough to be born in Alabama. The state that has its motto "We dare defend our rights". I was raised in era, the 1940's as a child and the 1950's as a teenager, which I remember with great affection. Men were men and women were women and there was no mistaking which was which. Both were proud of their individual roles. Homosexuality was very queer and a despicable act… an abomination."


VA Del. Samuel Nixon, Jr. and Sen. Mark Obenshain.
Wingnut bill would ban gay news from Virginia libraries. Virginia's giving Alabama a run for its money when it comes to intolerance and legislative wingnuttery. It's got to be tough to be gay in either state, with all the Right wing proposals to restrict rights, and now information on library computers. Two bills that would require any public library that receives state funds to install filtering software on its computers could result in a ban on sites providing gay community news and information. The lawmakers who have proposed the legislation say it is necessary to protect children from unwittingly stumbling across pornography while using the Internet at their local libraries. Opponents of the legislation argue that it amounts to censorship, and relies on imperfect technology that can block legitimate sites on such topics as abortion or gay rights.


This time Shirley Franklin is at the mercy of the GA legislature. Wingnut Rep. Earl Ehrhart (R-Powder Springs) has submitted a bill to repeal the city's gay rights ordinances.
Gay folks in Atlanta, it looks like you are going to have to fight for your rights, AGAIN. Yes, it's more than a lawsuit about obtaining spousal benefits for gay partners at a country club now. The Right wants to trash Atlanta's human rights ordinance, and *ss-wipe Earl Ehrhart, the man behind the country club dispute is leading the charge. It's a sad day when a progressive Southern city like Atlanta is under siege by the religious whack jobs. These few islands of tolerance and freedom are going to be under constant attack by the American Taliban.
Davis reintroduces bill to ban gay marriage in D.C.. Republican congresswoman Jo Ann Davis of Virginia reintroduced her bill seeking to prohibit the District of Columbia from legalizing same-sex marriage on Jan. 6. Although Davis' bill died in committee last year, gay activists and Capitol Hill observers say the approval by voters of ballot initiatives banning same-sex marriage in 11 states in the November election could generate more interest in the Davis bill this year. "I wish I could say I'm optimistic that we can defeat it, but I'm not," said Rep. Barney Frank (D-Mass.), who is gay. "The Republicans have clearly decided that this is a great issue for them to ride."
Liberty Counsel's Mathew Staver is a rising star of religious conservatives. The new face of the right. Staver, the founder and president of the Orlando-based Liberty Counsel, and an increasingly influential player in the religious right's efforts to stop gay marriage, has been involved in trying to thwart more than 30 gay marriage lawsuits nationwide. DKos diary on this: Falwell legal "ministry" has a 50-state agenda
Three of the Illinois holdouts/naysayers — Chapin Rose, Roger Eddy, and Bill Mitchell.
Sore wingnuts on the losing end of the Illinois gay rights vote (same article as above). "I voted 'no' because this is a backdoor way of legalizing gay marriage. This bill is going to be nothing but litigation for the next decade," said state Rep. Chapin Rose, R-Mahomet. State Rep. Roger Eddy, R-Hustonville, shared a similar concern about how the proposal is construed by a liberal Supreme Court. "Not to say that I think those folks should not be treated well, (I believe) that they should not be discriminated against, but I think this is more of an issue of as to what the next step is," Eddy said. State Rep. Bill Mitchell, R-Forsyth, was concerned that the proposal created a special class of people. "I just don't like how we segment society now, we're segmenting now based on sexual orientation," Mitchell said. "We all as American citizens have certain basic rights, but now we're categorizing people, and I just think it's a dangerous turn."
===
Other newsworthy items
Homeland nominee reversed 'gay' asylum. (via RawStoryQ) Homeland Security chief nominee Michael Chertoff was a judge in this case. "In a ruling that shows how difficult the conservative federal courts and the homeland security hierarchy have made it for foreign gays to win asylum here, the Third Circuit U.S. Court of Appeals, in Philadelphia, ruled on November 18 against an asylum petition by a gay man from Jamaica, a notoriously homophobic nation, even though an immigration judge had ruled in the petitioner's favor. Chertoff: "The question boils down to this," he wrote: "Was there substantial evidence that the government is not unable or unwilling to control violence against gays?" Describing the question as "close," Chertoff said, "We cannot conclude that the board's conclusion was unreasonable. Although Jamaican society evidently takes a harsh view of homosexuality, there is some evidence—including Detective Garrick's letter—that officials recognize that violence against gays is unacceptable. We cannot say that the board weighed this evidence unreasonably."
Your tax dollars: Pentagon and the 'homo' bomb. It's nice to see your tax dollars hard at work. The Pentagon reveals rejected chemical weapons that makes you wonder whether we've underestimated the insane thinking that goes on in Washington. The gist of the New Scientist article is that the Pentagon was trying to think up some creative, non-lethal ways to disarm enemy troops. One bright idea was for…"the development of an "aphrodisiac" chemical weapon that would make enemy soldiers sexually irresistible to each other. Provoking widespread homosexual behaviour among troops would cause a "distasteful but completely non-lethal" blow to morale, the proposal says."
Long-time gay activist Laurie Linton succumbs to cancer. New York lost one of its best-known and well-liked gay activists when Laurie Linton died of cancer on Jan. 10 at age 46. Linton is survived by her brother Robert and the many friends she made over the years while in school, at work for various gay and human-rights organizations.
Daily Kos diaries to check out:
DNC petition to Bush: lay off gays
MAJeff: Democrats discussing gay issues
timerigger: Same-Sex Marriage w/Poll
MAJeff: Homophobia and National Security