Leader of "Repent America" group cites 'spiritual battle' against gays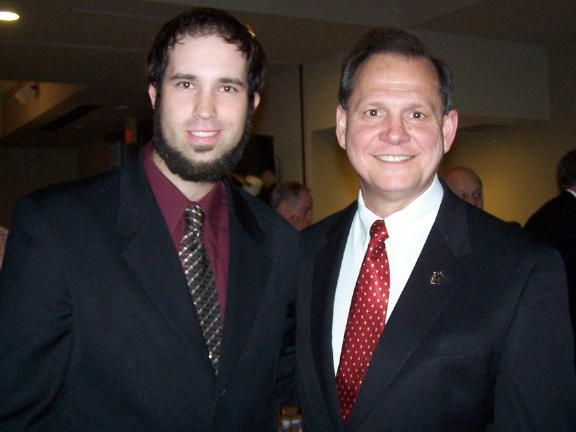 Two loons — Michael Marcavage of Repent America, and possible future governor of Alabama Roy "slab-o-ten-commandments" Moore.
These evangelists are facing up to 47 years in prison for protesting at a gay pride event in Philly. He's on a mission…Sane or not? You decide. (TimesLeader):
In 1999, then-Temple University student Michael Marcavage complained about a school play featuring a gay Christlike character and ended up being sent to a hospital for a psychiatric evaluation.

Now, as the founder and leader of a conservative Christian group called Repent America, he faces felony charges in a case that is drawing attention from like-minded organizations around the country.

Marcavage is accused of disrupting a gay and lesbian celebration in October, though he says he was simply voicing his religious belief that homosexuality is a sin. He faces felony charges of riot, criminal conspiracy and ethnic intimidation – Pennsylvania's version of a hate crime – and five misdemeanor counts including disorderly conduct and reckless endangerment.

He and three co-defendants are due back in court twice next week, including to appeal an order they stay at least 100 feet away from any "homosexual event."

Marcavage, 25, has been arrested, detained or cited by police around the country since founding Repent America in 2002, including at a demonstration against same-sex marriages in San Francisco and at a graphic traveling protest in Connecticut against abortion.

On the group's Web site, Marcavage says that Repent America's mission is to "go out to where the sinners are."

"We must go out into the world and declare the word of God in front of the abortuaries and sexually perverse establishments, and at the homosexual parades and other sin celebrations and call them to repentance," the statement says.

…Marcavage and the dozen or so key members of Repent America have traveled around the country. They protested abortion at a Philadelphia convention of obstetricians and gynecologists and rallied in support of ex-Alabama Supreme Court Chief Justice Roy Moore, who was ousted in 2003 for refusing to remove a Ten Commandments monument from a judicial building.