Matthew Shepard smear on ABC's 20/20 airs Fri.
I ran an entry on this on November 12 when I learned about it, but it's moving back up top because the smear is supposed to air Friday.
ABC will be running a piece that contends Matthew Shepard's killing is just a mugging gone wrong, and is tied to meth use by the perpetrators. There is a web site up now, boycott4matthew.org, where there are a list of contacts to take action against this outrage. Andrew Sullivan contributed to the piece, which is reported by 20/20 co-anchor Elizabeth Vargas.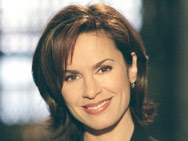 20/20's Elizabeth Vargas
As I said then, the defense team was the proponent of the "gay panic" defense and drug use came up at the trial as well, so if this is now Aaron McKinney and Russell Henderson trying to rewrite history while in the slammer, it represents more abuse of the victim.

Aaron McKinney and Russell Henderson, Matthew Shepard's killers.
There is a DKos diary on this as well.