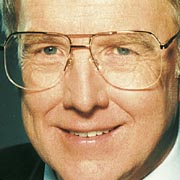 James Dobson, "the religious right's new kingpin," according to Slate.
He's back, in a neat Slate profile. I had a hard time trying to stop laughing long enough to type this. His utter, complete fixation on homosexuality is curious. Freepers hate for us to talk about these unhinged religious wingnuts…
Forget Jerry Falwell and Pat Robertson, who in their dotage have marginalized themselves with gaffes (this week Robertson referred to potential Supreme Court nominee Miguel Estrada as "Erik Estrada"). Forget Ralph Reed, now enriching himself as a lobbyist-operative, leaving the Christian Coalition a shell of its former self. Forget Gary Bauer, now known chiefly as a failed presidential candidate who tumbled off a stage while flipping pancakes. Dobson is now America's most influential evangelical leader, with a following reportedly greater than that of either Falwell or Robertson at his peak.

Dobson earned the title. He proselytized hard for Bush this last year, organizing huge stadium rallies and using his radio program to warn his 7 million American listeners that not to vote would be a sin. Dobson may have delivered Bush his victories in Ohio and Florida.

…It was the gay-marriage debate that finally hurled Dobson into politics wholeheartedly. The subject of homosexuality seems to exert a special power over him, and he has devoted much idiosyncratic thought to it. When discussing gays he spares no detail, no matter how prurient. In Bringing Up Boys, he gleefully reprints a letter he received from a 13-year-old boy who describes wiggling his naked body in front of the mirror to "make my genitals bounce up and down" and admits to having "tried more than once to suck my own penis (to be frank)." Dobson believes that such adolescents suffer from what he calls "pre-homosexuality," a formative stage which results from having a weak father figure. Dobson further contends that homosexuality, especially in such an early stage, can be "cured." His ministry runs a program called Love Won Out that seeks to convert "ex-gays" to heterosexuality. (Alas, the program's director, a self-proclaimed "ex-gay" himself, was spotted at a gay bar in 2000, an episode Dobson downplayed as "a momentary setback.")

To Dobson, gay marriage is a looming catastrophe of epic proportions. He has compared the recent steps toward gay marriage to Pearl Harbor and likens the battle against it to D-Day…

…Dobson himself predicted future disappointment during an appearance on ABC's This Week last Sunday. Asked whether Bush would fail evangelicals, Dobson replied, "I'm sure he will fail us. He doesn't dance to our tune." If that's true, and Dobson believes his words about putting principle ahead of power, then his new bond with the GOP may already be in jeopardy.